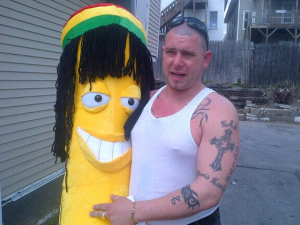 It's impossible that this wouldn't go viral across the internet, but some guy in New Hampshire lost his life savings ($2,900) at a carnival trying to win an Xbox Kinect. Henry Gribbohm, pictured here with a life-sized dreadlocked banana he did win, went to a carnival and after winning said banana, pressed his luck going for the Xbox Kinect and lost $300 doing so ("The balls kept popping back out of the baskets!")
He then went home and got the rest of his "life savings", ($2,600) and came back, kept trying and lost all that too.
In the inaugural post of my new "losernomics" channel, let us enumerate the reasons:
Do the math! Depending on the packages, you can buy an Xbox Kinect for somewhere between $99 and $299. Wtf?
If your life savings at age 36, being a head of a household and having kids is (was) $2,900, you are headed for a life of dumpster diving. $2,900 isn't a "life savings", it's asswipe money. If you are 36 and your life savings are $2,900, stop what you're doing, put any thoughts of Xbox Kinects or even dreadlocked banana's out of your mind entirely and drop everything until you can figure out a way to bank 100X that much money before you turn 60, otherwise you face a retirement of endlessly repeating "do you want fries with that?" – if you're lucky.
After this happened he remarked that the carnival game was "fixed". Maybe it was, so what? Maybe even "of course!" – he had to chew through $2,900 to figure out that something was up? This is pretty typical loserdom behaviour: repeatedly doing something idiotic and then blaming the circumstances for the outcome.
He went back the next day and the carnie gave him back $600 and what did he do? He then reported him to the police! Even when somebody cut him a bit of slack for his own stupidity he still goes crying foul to "the authorities".
This event defines the modern popular ethos. Think of the man as say, a wall street bank, who maybe lends trillions of dollars to people with no income, no jobs and no assets to buy houses they can't afford. Or conversely, think of the man as somebody with no job, no income and no assets who borrows more money than he'll realistically earn in a lifetime to buy a house that then plummets in value.
What is the common thread? People doing stupid, stupid things and then blaming everybody else and the outward circumstances for their failings.